SIXTH ANNUAL MEETING OF THE
HISTORICAL KEYBOARD SOCIETY OF NORTH AMERICA (HKSNA)
Friday, APRIL 28th,  2017, 11 a.m. EST at Greenville, South Carolina, U.S.A.
Anthony Phillip Heinrich: The Barbecue Divertimento (1825)
comprising The Plowman's Grand March and the Negro's Banjo Quickstep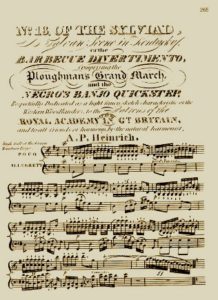 Anthony Philip Heinrich (1781 — 1861) was the first "full-time" American composer, and the most prominent before the American Civil War. Born in Bohemia, Heinrich (1781-1861) was a self-taught composer.  He began life as a son of a wealthy glass importer whose business collapsed during the Napoleonic Wars. Heinrich then moved to America in 1805, and spent time as an itinerant musician, playing the violin, piano and conducting. When his wife died and a conducting job he had sought was downsized, Heinrich retreated into the wilderness, coming to rest in an abandoned slave cabin in Kentucky. There, at the age of 37, at what was then the edge of Western civilization, he began to compose. It was in the abandoned cabin that he had direct contact with  African Americans with whom he developed rapport. He was the first important composer to recognize these marginalized people's music and paid hommage to it in this composition.