MELODEON, a chamber group founded by Artis Wodehouse in 2011 presents American music from the 19th and early 20th C. with special emphasis on the antique and vintage keyboards in Wodehouse's collection.  Wodehouse has been joined by Marti Newland, soprano, George Spitzer, baritone,  Andrew Sun, pianist and guest artists Stephen Oosting, tenor and Lori McCann, soprano: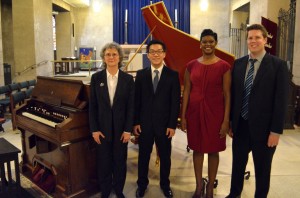 Artis Wodehouse, Andrew Sun, Marti Newland, George Spitzer
MELODEON Repertoire performed January, 2011 through February, 2015
Felix Arndt (1889-1916)
Ernst Bacon (1898-1990)
Songs for low voice and piano:
The Commonplace
Grand Is the Seen
How Still the Bells
Omaha
It's Coming-the Postponeless Creature
Arthur Bird (1856-1923)
Music for the American Harmonium, complete
William Bolcom (b. 1938) song cycles
Margaret Bonds (1913-1972) songs
Harry T. Burleigh (1866-1949) songs
John Alden Carpenter (1876-1951) Gitanjali song cycle, poetry Rabindranath Tagore
The Day is No More
When I bring to you colour'd toys
On the day when death will knock at thy door
The sleep that flits on Baby's Eyes
I am like a Remnant of a Cloud of Autumn
On the Seashore of Endless Worlds
Light, My Light
George Chadwick (1854-1931) songs:
Will Marion Cook (1869-1944) songs
Arthur Corri-Clifton (1784-1832)
Charles d'Albert (1809-1886)
Richard Danielpour (b. 1956)
Arthur Farwell (1872-1952)
Arthur Foote (1853-1937)
An Irish Folksong for soprano and piano
Stephen Foster (1826-1864) songs and piano solos
Oh! Susanna
Some Folks
Linger in Blissful Repose
Soiree Polka
Gentle Annie/Village Bells Polka
Beautiful Dreamer
Nelly Bly Quadrille
Wilt Thou Be Gone, Love?
George (1898-1937) and Ira (1896-1983) Gershwin songs and piano solos
Eugene Gigout (1844-1925)
Romanza for the Mason & Hamlin Liszt Organ
Louis Moreau Gottschalk (1829-1869) songs
Percy Grainger (1882-1961)
Charles Tomlinson Griffes (1884-1920)
Anthony Philip Heinrich (1781-1861)
Charles Ives (1874-1954)
Eva Jessye (1895-1992) Five Traditional Afro-American Spirituals
Hal Johnson (1889-1970)
Afro-American Spirituals arr. for soprano and piano
His Name So Sweet
Let's Have a Union
Take My Mother Home
Scott Joplin Treemonisha Suite 1868-1917)
arr. Artis Wodehouse for soprano, baritone and piano
Margaret Ruthven Lang (1867-1972)
Thurlow Lieurance (1878-1963)
By the Waters of Minnetonka for baritone, soprano and piano
Edward MacDowell (1860-1908) songs and solo piano pieces
To a Wild Rose, from Woodland Sketches
https://www.youtube.com/watch?v=hQRZhyGMxkw
The Robin Sings in the Apple-tree
Starlight, from Sea Pieces
JS Bach Courante, transcribed and arranged by Edward MacDowell
Constancy
JS Bach Menuet in G, transcribed and arranged by Edward MacDowell
JS Bach Menuet in F, transcribed and arranged by Edward MacDowell
The Sea
At an Old Trysting Place
A Deserted Farm
From an Indian Village
Artie Matthews (1888-1958)
Pastime Rag No. 2 for piano
Ethelbert Nevin (1862-1901) songs and piano 4-hands duets
The Rosary for baritone and piano
Three Dances Op. 6 for Piano 4-hands
1. Valse Caprice
2. Country Dance
3. Mazurka
Horatio Parker (1863-1919)
William Grant Still (1895-1978)
Dana Suesse (1909-1987)
My Silent Love/Jazz Nocturne for baritone and piano
Scherzette piano solo
Danza a Media Noche for two pianos https://www.youtube.com/watch?v=CA9JzWay4yY
The Night is Young and You're So Beautiful for baritone and piano
Midnight in Gramercy Square piano solo
Yours for a Song for baritone and piano
110th Street Rumba for two pianos
Swampbird piano solo
Serenade to a Skyscraper piano solo
Kurt Weill (1900-1950)
Selections from Threepenny Opera arr Artis Wodehouse for harmonium and piano
"Blind" Tom Bethune Wiggins (1849-1908)
Battle of Manassas for solo piano and narration
Rain Song
Wilt Thou Bring My Baby Home?
Lazar Weiner (1897-1982)
Yiddish Art Songs and Piano pieces https://www.youtube.com/watch?v=OpAEMfUld98
Prelude from Three Pieces for Piano
O'er the Fields
Yosl the Fiddler
A Nigun
Monotone
Passacaglia from Calculations for solo piano
A Beard
Slow and dreamy from Calculations
I Believe
Miscellaneous
19th C.  Latin American solo piano music
Por Que, Eh? /Ignacio Cervantes Kawanagh
Ilusiones Perdidas/ Ignacio Cervantes Kawanagh
La Quejosita/ Manuel Saumell
Operatic Novelties
Songs from America's Gilded Age
Scottish music for voice and piano https://www.youtube.com/watch?v=SSzP2PQBVJY
Seven Ecossaises/Franz Schubert
Bruce's Address to his Army/ Hey, Johnnie Cope/What'll Be King But Charlie?
Lord Ronald                                                            `
Ecossaise Op. 72 No. 4/2/Chopin
My Heart's in the Highland/The Blue Bells of Scotland
Ecossaise Op. 72 No. 4/1/Chopin
My Luv Is Like a Red, Red Rose
Ecossaise in F/Franz Schubert
O, Wert Thou in the Cauld Blast/Felix Mendelssohn
Ecossaise Op. 72 No. 5/3/Chopin
Ecossaise in A minor /Franz Schubert
Barbara Allen
Flow Gently, Sweet Afton/Afton Water
Eccosaise in E-flat/Beethoven/Busoni
Music for antique square piano and foot pump melodeon
Creole songs and piano solo music
19th Century American Synagogue music
Synagogen-Melodieen No. 1 Op. 47 for Harmonium/Louis Lewandowski
Eili, Eili – voice, violin, harmonium/Jacob Sandler https://www.youtube.com/watch?v=7KY1vJPPWF4
Consolation 2 for Harmonium, Op. 44/Louis Lewandowski
Consolation 9 for Harmonium, Op. 44/Louis Lewandowski